Using Antiques to create a Statement piece in your Room.
Have you decorated a room only to find there seems to be something missing? A corner that just seems too plain, or maybe you've decorated in neutrals, and a little punch is needed from keeping the room from being too boring? What you probably need is a statement piece. Statement pieces are just what they sound like, a piece of furniture that makes a statement! I think the best statement pieces are personal in nature. A piece that says, "this is me!" Chairs make great statement pieces as they are a piece of furniture that you can purchase, sometimes quite cheaply, to declare something unique about you. After all, don't you think your house should be a reflection of you and not a canned room put together by someone at the furniture store? I'm thrilled that decorating has finally stopped being about being matchy, matchy. I've never been a fan of this type of style. It always looked too boring and lacking in character. Finding pieces that speak to you and better yet speak about you always end up creating a more relaxing space for you to live in.
Statement pieces can be new or old. A great place to find a new statement piece, is Homegoods. They always have a variety of unique, one of a kind pieces, and are usually reasonably priced too. But some of the best statement pieces are antiques. They have a story of their own to tell. Many times your piece may be a hand-me-down or an inherited piece. You have the story of where it came from and who owned it. But maybe you've acquired a piece from an antique store, the side of the road, or a thrift shop. You might not know the history, the style, or about the era it came from. Perhaps, you've heard of or shopped at One Kings Lane. They are also a wonderful source of quality unique pieces and vintage finds (did you know they have vintage items?). They are now launching a new research site to help you identify pieces by period and style, from the 1600's all the way to the present! They discuss styles, influences and how and why materials were used at certain times. It's really a wealth of information for anyone researching furniture from med-evil to mid-century modern and everything in between!
I've been invited to a sneak peek of the research site and I've been using it to research a statement chair I found in a thrift store last Winter. I've determined though this site and the help of some kind friends on Hometalk that it is a Hall Chair. Hall chairs were created for servants and tradesmen—simple construction with incredibly varied shapes. Below is a clip from the One Kings Lane site which I found, what I think, is a very close match to my chair. Here is what my chair looked like when I found it:
And here is the article describing Hall chairs.
Elements of Georgian Style Chairs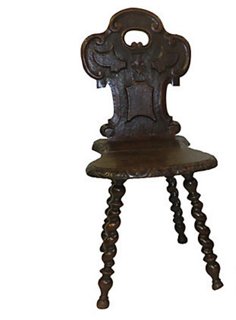 An English hall chair typical of the Georgian period.
Aside from the major style movements, other changes in England to impact chair design included:
The switch to using smaller sections of timber—leading to lighter construction.
Comfort improved with the innovation of the drop-in seat, which replaced loose cushions and caned seats.
With a 1721 Act of Parliament lifting heavy import duties, mahogany was much more widely available, mostly sourced from Jamaica.
The blueprint of the home shifted, as well, replacing the Elizabethan gallery with a library, leading to upholstered library armchairs, and new reading and writing chairs.
So, what do you think? Is it a pretty good match? I am happy to finally know what the chair is and what period it came from. A special thanks to all the folks on Hometalk that submitted their suggestions on what they believed it to be. You definitely help guide my search, and through the process of emilination, I was able to find my answer. Did you know that Hometalk has a "Ask a question" section, where you can submit your questions about anything home related and the good people of the world will give you their advise and/or opinion? It's really quite helpful.
If you have a piece of furniture you'd like to research on the One Kings Lane click on the picture below and you will be taken to the Research site. It was so interesting to read about the influences and how and why styles were created. Even if you don't have something to look up, just reading about the styles can be a great learning experience, and maybe you just might learn a thing or two about something you own!!!
Click on the image below for SPECIAL access to the New research site!
Thanks for stopping by and visiting today! Wishing you a very Happy New Year!!